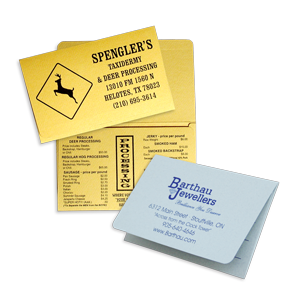 07-01
2 1/2" x 4" Economy License or Card Holder
Specs:
2 1/2" x 4" license or card holder. Add your imprint to the face. Standard form can be added to the flap for no additional charge.
Printing:
Includes one standard ink color for Document Folders. Copy must remain 3/8" in from all edges, no bleeds. See color chart. Non-standard PMS colors and additional ink colors are available for an additional charge. Also available: foil stamped, embossed, four color process printed.
Art:
We will typeset up to six lines of copy FREE and include your logo. Follow art guidelines when submitting copy. See specifications.
Stock:
Choose any standard stock for Document Folders. See color chart.
Production:
7-10 working days. Multiple processes require the most production time. Tell us what you need.
Proof:
PDF or color digital available upon request.
Packaging:
Pocket glued at both sides. Ships final folded. Holds license or standard 2 1/8" x 3 3/8" card. Packaged up to 2500 per box. 26 lbs. per box.