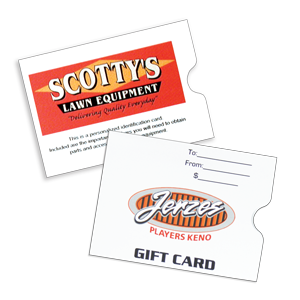 D-19-01
2 1/2" x 3 1/2" Digital Print License or Card Holder
Specs:
2 1/2" x 3 1/2" license or card holder. Add your imprint to the front and back. Standard form can be added to the back for no additional charge.
Digital Printing:
Your custom design digitally prints in four color process (4/0). Limited print areas of four color process on the front and back. No bleeds, copy cannot cross scores. Logos, photos, and line copy only. Be aware that digital printing will not match traditional off-set printing.
Art:
Follow art guidelines and submit art on designer's template (Adobe InDesign).
Quantity:
Stock:
80# uncoated Smooth White or 80# Uncoated Eggshell White only.
Production:
5 working days. Schedules can often be adjusted. Tell us what you need.
Proof:
PDF available upon request.
Packaging:
Glued side edges. Ships final folded. Holds license or standard 2 1/8" x 3 3/8" card. Packaged up to 1000 per box. 9 lbs. per box.